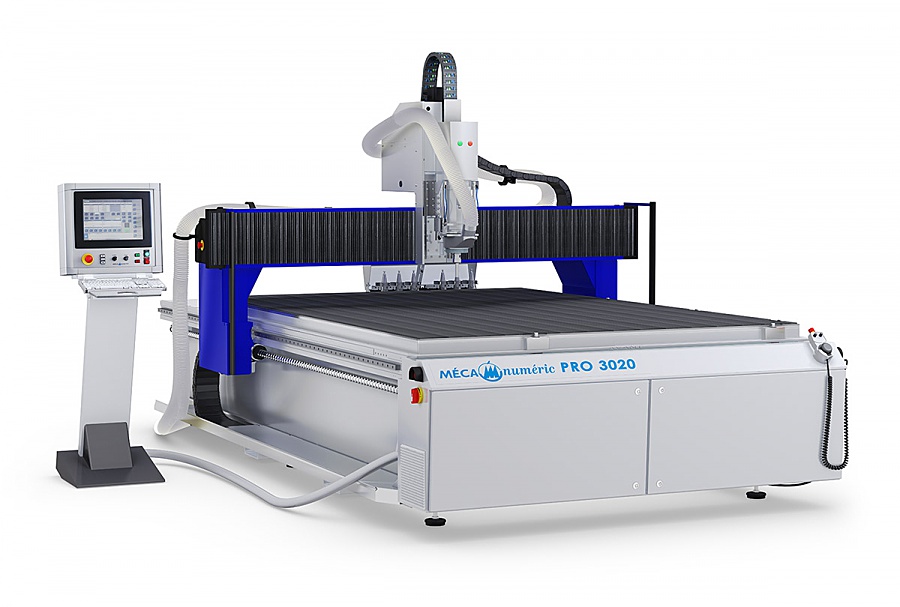 MECAPRO
For professionals, this 3 axis CNC milling equipment range offers an excellent price ratio/performances, in many industrial sectors.
Description
Technical datas
Fields of activity
Precision milling/cutting machine (router) with simple use for machining plate materials in the sectors of advertising, sign, sign board, POP, plastics, aluminium transformation….. The MECAPRO range is very versatile and be used for a large variety of applications / materials.
STRENGTHS
Precision milling/cutting CNC machine (router), easy to use with numerous possibilities of customization.
Designed and realized for a professional use.
Machining of sheet plates in various fields such as aeronautics, plastic processing and composites, precision mechanics, aluminium processing, advertising and POP…
Equipment with fixed table in working areas from 1000x1500 mm to 2500x6000 mm as standard and up to 3500 x 16000 in special realization.
Innovative and efficient vacuum tables with turbine technology or vacuum pumps.
MECANUMERIC numerical controls as standard or SIEMENS or HEIDENHAIN type as option.
Quality kinematics integrating industrial components delivered by the world leaders in their field, mounted on stabilized and welded steel frames.
Options for trades adapted to the current requirements of customers in each activity sector.
Some of the materials to be used (according to the selected spindle and tool) on :
Plastic in rigid plates (PMMA-PC-PS-PVC-ABS..)
Expanded plastic and alveolar plates
Rigid foams (PU- PS-…)
Semi rigid foams (KAPA line®,…)
Composite materials for building : Alucobond®, Dibond®, Reynobond®,..
Composite materials for industry (polyester resin loaded with glass fiber, carbone fiber...)
Wood and by-products.
Polyester resins.
Light alloys with Aluminium base or copper base.
Steel and stainless steel
Soft stones, marble, granite (only engraving)
OPTIONS
Suction of milling chips by a large range of professional suction device .
Various vacuum tables
Static tool shop or rotative tool shop
Tool coolant by oil spraying - Tool / material cooling system by frozen air .
Multifunction heads options (M3TH) for 3 tools with tangential control

Cutting knife for material thickness <2 mm
Vibrating cutting knife for light and alveolar materials till 15 mm thickness
Grooving tool for packaging application

(GRAFITRONIKS®, OPTISCOUT®, ICUT®) vision registration/compensation system by camera.
Horizontal numerical divisor (4th axis)
SIEMENS numerical control and SIEMENS servomotors
Automatic debatcher for holding material VILMILL®
Multi-head system (2, 3 or 4 heads) for simultaneous machining of several parts
Security zone around machine controlled by radar or immaterial barriers
TECHNICAL DESCRIPTION :
Structure with fix table and moving gantry.
Welded steel monobloc frame
High inertia welded frame and moving gantry.
Vacuum table in aluminium profiles or composite
Holding of plates by vacuum generated either by side channel blowers, or by claw vacuum pumps. Selection of the zones by manual valves or automatic valves option.
Motorisation : AC Brushless servomotors on 4 axes (X1-X2-Y-Z). Double driving on X axis.
Transmission : high precision ball screw on all axes.
Guidance : grinded steel rails and preloaded ball bearings
DIMENSIONS
| | | | | | |
| --- | --- | --- | --- | --- | --- |
| | MECAPRO 1015 | MECAPRO 3015 | MECAPRO 3020 | MECAPRO 4020 | MECAPRO 6020 |
| X stroke | 1020 | 3050 | 3050 | 4050 | 6050 |
| Y stroke | 1520 | 1520 | 2070 | 2070 | 2070 |
| Z stroke (standard / option) | 250/400 | 250/400 | 250/400 | 250/400 | 250/400 |
| Maximum material width | 1640 | 1640 | 2200 | 2200 | 2200 |
| Maximum speed | 417 | 417 | 417 | 417 | 500 |
SPINDLES
| | | | | |
| --- | --- | --- | --- | --- |
| | Power S1 - S6 in W | Rotation speed rpm | Cooling | Tool change |
| HF80 | 2500 - 3200 | 8000 - 40000 | Water with cooling unit | Automatic, SKI20 |
| SEV1090 | 3400 - 4200 | 2000 - 24000 | Air by electric fan | Manual |
| ES929 | 7500 - 10000 | 2000 - 28000 | Air, natural convection | Automatic, ISO30 |
| ES351 | 6500 - 9000 | 2000 - 40000 | Water with cooling unit | Automatic, HSK E32 |