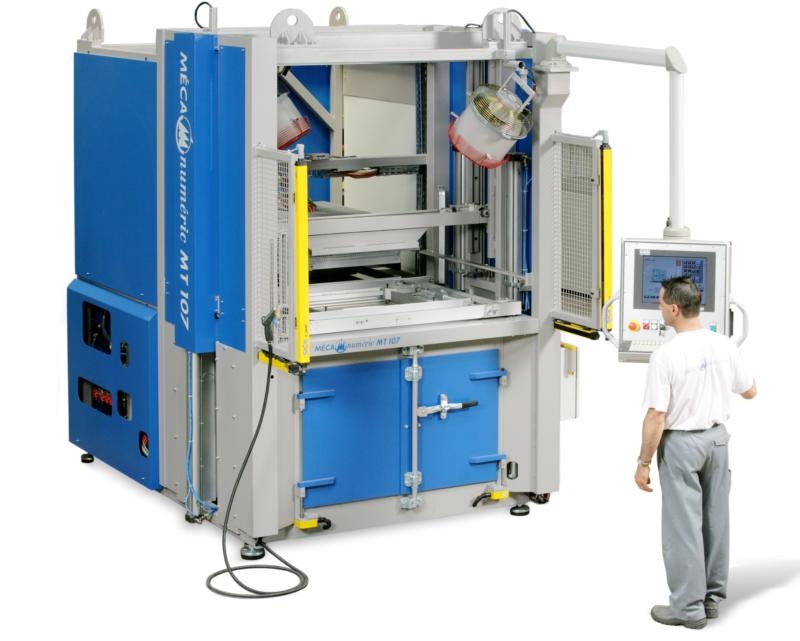 MECAFORM
Semi automatic presses for high rate industrial vacuum forming,for making complex parts with very deep vacuum forming.
Description
Technical datas
Fields of activity
VACUUM FORMING EQUIPMENT BY VACUUM OF PLASTIC THERMOPLASTIC MATERIAL

TECHNOLOGY
Compact structure with welded steel frame
Double superior and inferior heating plate, with infrared radiating elements type FSR or HTS
Parallel blank holder for bigger and easier removal from the mould
Vacuum box with positive or negative function box
Integrated vacuum tank with lubricated vacuum vane pump
Option counterpunch for difficult moulding
Numerical driving by microprocessors with interface man/machine on industrial PC with colour screen 15 inches
Supervision of heating temperatures and cooling by infrared pyrometer
Individual adjustment of the power for each radiating element by microprocessor, with data graphical display
Removable mould holder with indexing system and rapid clamping

OPTIONS
Automated loading
Pre heating out of forming area
Automated unloading
Mould temperature regulation system
TECHNICAL DESCRIPTION
Structure : steel welded slotted gantry laid down without pit.
Mold Holder : steel welded mold holder with removable plate. Transmission through 4 pneumatic rams with a synchronization system between rack and pinion
Blank holder frame : steel welded frame. Transmission through 4 pneumatic rams with a synchronization
system between rack and pinion.
Heating plates : steel welded frame with modular infrared heating elements in the 2 to 5 micron wavelength range. Power regulation of the heating elements by a 3-position switch for MT55, individual from 0 to 100% with 1-percent increments for MT107, 1512 and 2012 and by group of 2 elements for MT2515 and 3020).
Blowing box : steel welded vacuum proof box. Front doors with basquili. Lateral and back access by screwed vacuum proof trapdoors. Temperature box controlled by a thermostatic sensor.
Security : multiple light beam safety devices. Automatic back repositioning of the heating plates in case of power cut. Front doors protected by safety rotating sensors.
DIMENSIONS
| | | | |
| --- | --- | --- | --- |
| | MT 107 | VFE 1510 | VFE 2515 |
| Working area, maxi sheet X | 1000 | 1550 | 2550 |
| Working area, maxi sheet Y | 700 | 1050 | 1550 |
| Forming depth Z | 500 | 350 | 350 |