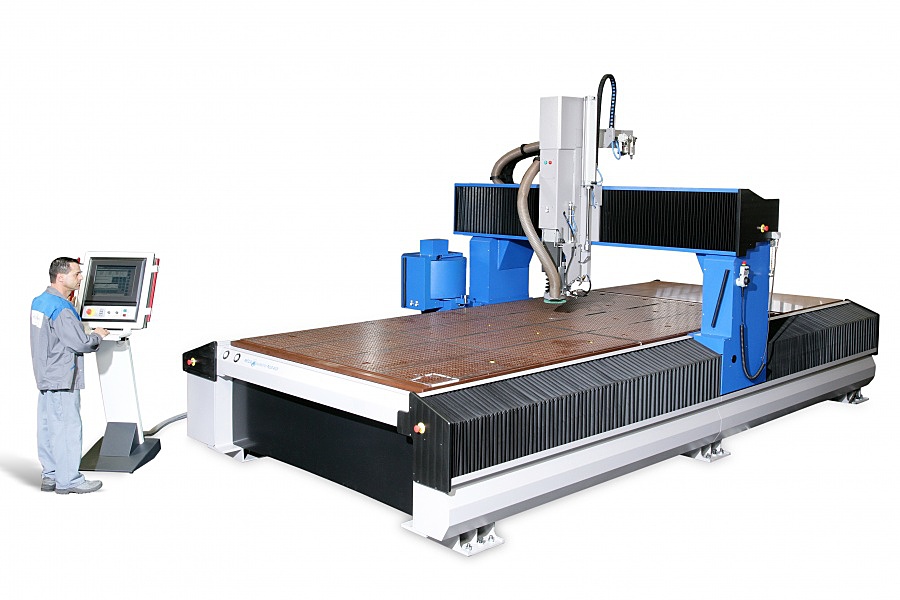 MECAPLUS
Optimized for machining aluminium, plastic materials in strong thickness and composite materials with high mechanical characteristics.
Description
Technical datas
Fields of activity
Precision milling machine of simple use for machining rigid plate materials in strong thickness in the sectors of plastic, modeling, aeronautics, aluminium transformation advertising and POS or for machining 3D molds and models.
STRENGTHS
Designed and realized for an intensive use.
Particularly adapted for the machining of aluminium, plastic materials of strong thickness and composite materials with high mechanical properties.
Precision milling machine, easy to operate, for the machining of rigid sheet materials of strong thickness, in the fields of plastic processing, modelling, aeronautics, aluminium processing, advertising and POP… or for the machining of moulds and 3D models.
Equipment with fixed table – working travels 1500x3100 mm till 2500x6000 mm as standard.
Many customization possibilities.
Innovative and efficient vacuum tables with turbine technology or vacuum pumps.
MECANUMERIC numerical controls as standard or SIEMENS or HEIDENHAIN type.
Quality kinematics integrating industrial components supplied by the world leaders
Materials to be used (according to the selected spindle and tool):
Plastic in rigid plates (PMMA-PC-PS-PVC-ABS..)
Expanded plastic and alveolar plates
Rigid foams (PU- PS-…)
Semi rigid foams (KAPA line®,…)
Composite materials for building : Alucobond®, Dibond®, Reynobond®,..
Composite materials for industry (polyester resin loaded with glass fiber, carbone fiber...)
Wood and by-products
Polyester resins
Light alloys with Aluminium or copper basis
Steel and stainless steel
Soft stones, marbles, granite
OPTIONS :
Suction of milling chips by professional suction devices
Various vacuum tables
Rotative tool shop
Tool coolant by oil spraying / Toool-material cooling system
SIEMENS Numerical Control and SIEMENS servomotors
FANUC Numerical Control and FANUC servomotors
Automatic debatcher for holding material VILMILL®
Multi-heads system (2, 3 or 4 heads) for simultaneous machining of several parts
Overall protection enclosure
System of automatic loading unloading by cross bar or interchangeable tables.

TECHNICAL DESCRIPTION :
Structure with fix table and mobile gantry
Frame single block in welded steel
High inertia welded moving gantry
Vacuum table in aluminium profiles or composite
Holding of plates by vacuum generated either by side channel blowers, or by claw vacuum pumps
Motorization: AC Brushless servomotors on 4 axes (X1-X2-Y-Z), double driving on X axis (motor power from 1 to 2 Kw according to CN used. Selection of the zones by manual valves
Transmission: high precision ball screws on all axes (diameter 40 mm or 63 mm)
Guidance: grinded steel rails size 35 and preloaded ball bearings
Numerical control POWER AUTOMATION MECANUMERIC CN7100 with 15 inches touch screen, hardware integrated, Data input by Ethernet link, USB port, import of ISO code files (option SIEMENS 840 or FANUC 16 O)
Numerous electrospindles available
PERFORMANCE :
- Maximum speed : 600 mm/sec
- Acceleration : 1 ms²
- Repeatability : +/-0.02 mm
- Resolution : 0.001 mm
DIMENSIONS :
| | | | | |
| --- | --- | --- | --- | --- |
| | MPL3115 | MPL3121 | MPL4121 | MPL6121 |
| X stroke | 3110 | 3110 | 4100 | 6100 |
| Y stroke | 1560 | 2100 | 2100 | 2100 |
| Z stroke (standard / option) | 275/500 | 275/500 | 275/500 | 275/500 |
| Maximum material width | 1750 | 2300 | 2300 | 2300 |
| Passage under gantry (standard / option) | 375/600 | 375/600 | 375/600 | 375/600 |
| Width | 4650 | 4650 | 5650 | 7650 |
| Depth | 3200 | 3600 | 3600 | 3600 |
| Height | 3160 | 3160 | 3160 | 3160 |
| Weight | 5800 | 7000 | 8000 | 11000 |