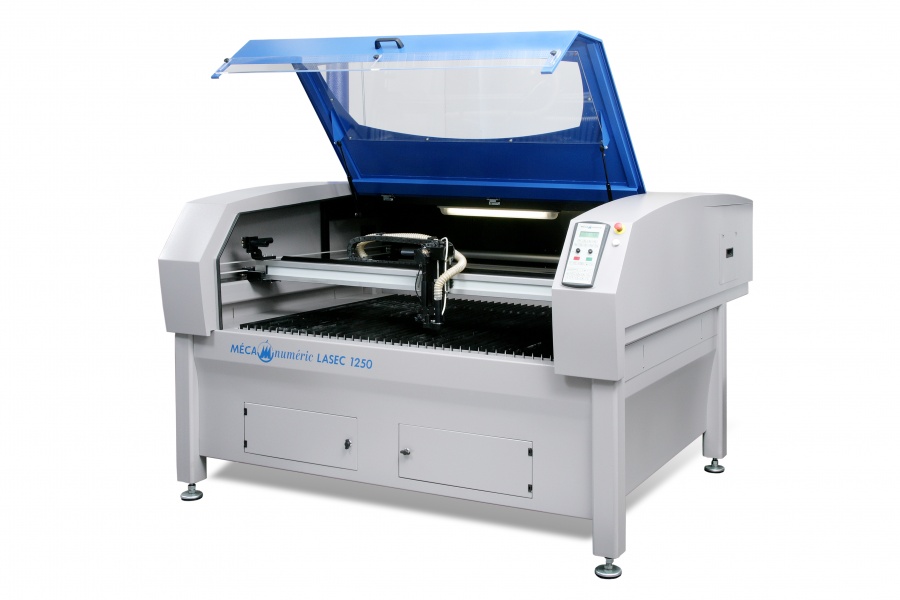 LASEC
Fixed table, mobile gantry, fixed laser and mobile mirrors. This equipment can realize cutting in vectorial mode and engraving in raster mode.
Description
Technical datas
Fields of activity
EQUIPMENT OPTIMIZED FOR CUTTING OR ENGRAVING ON FOLLOWING MATERIALS :
Plastics (except with PVC basis : chemical risks)
Synthetic resins
Wood and by-products
Leather
Soft stones, marble, granite (only engraving)
Mineral glass (only engraving)
Fabric
Cardboard

TECHNOLOGIES :
Transmissions by notched belts on X and Y (double belt on Y) and by ball screws on Z axis
Guidance : precision linear rails with preloaded ball slides.
Fixed CO2 laser, mobile optics by 3 silicon mirrors, integrated shutter.
Numerical command in real time CN R3V4, DSP (Digital Signal Processor) combined with FPGA (Field-Programmable Gate Array)
Motorisation : brushless servomotors with absolute encoders + measure gauge on Y axis (for increased precision in raster mode)
Fume suction by inferior table
Standard table top in anodized aluminum bars and special anti reflection profiles.

OPTIONS :
Numerical Z axis - travel 80 mm for UP/DOWN of the focusing head
Fume suction and treatment unit with suction unit TEKA LMD517 with 3 filters + active carbon filters (1500 m3/h - 2800 Pa - 1,5 Kw ) + 2 manual shutters for area selection
Table top in aluminium honeycomb
Laser pointer with red laser diode
Automatic or manual debatcher for soft materials
Autofocus for focusing lens
PERFORMANCES
Repeatability in mm: +/- 0.08
Resolution in mm: 0.0025
Acceleration: 10 m.s2
DIMENSIONS
| | |
| --- | --- |
| | LASEC 1250 |
| X stroke | 1505 |
| Y stroke | 1250 |
| Z stroke | 50 |