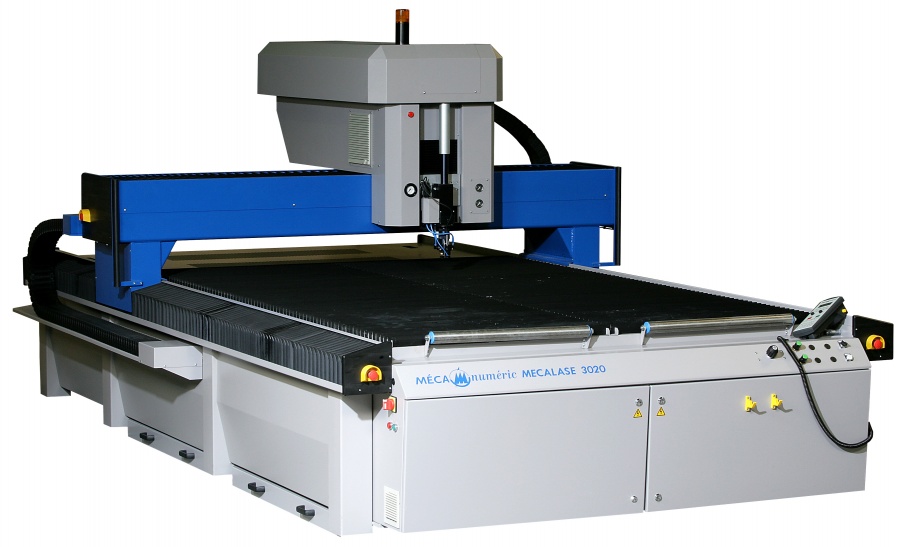 MECALASE
Fixed table, mobile laser, average power. Sealed laser sources from 100 to 600W enable to get a very low operating cost because these laser do not require exterior laser gas and they have a life time of 15000 to 18000 hours, before any gas reloading.
Description
Technical datas
TECHNOLOGIES :
Transmission by 4 ball screws (2 ball screws on X axes), numerical Z axis
Motorisation : 4 DC servomotors with continuous current
Guidance : precision linear rails with preloaded ball slides
Numerical control : Power Automation MECANUMERIC CN7000, ISO code
Sealed CO2 laser driven under mobile gantry and only one reversing mirror towards the focusing head : easy maintenance and low operating cost.
FOMEC focusing head : focus lens 2,5 or 5 inches with coaxial suction
Fume suctions by table divided into sectors with automatic zone selection
Standard table in anodized aluminium bars and anti reflecting profiles
Numerous CO2 laser sources available
CUTTING EQUIPMENT OPTIMIZED FOR MACHINING OF FOLLOWING MATERIALS WITH
STANDARD FOCUSING HEADS :
Acrylic
Plastic materials
Wood and by-products

THE UTILIZATION OF A FOCUSING HEAD WITH HIGH PRESSURE LENS GIVES THE POSSIBILITY
TO CUT IN ADDITION :
Soft steel : thickness 4 mm with 300W, 6 mm with 600W
Stainless steel : thickness 1,5 mm with 350W, 3 mm with 600W
OPTIONS :
Vision registration/compensation system by camera (GTK, OPTISCOUT)
PRECITEC high pressure focusing head PRECITEC for steel cutting.
Filtration system and fume treatment.
Aluminium honeycomb special tables.
Interchangeable tables for loading / unloading in concealed time.
Automatic compensation system of flatness defects.
SIEMENS numerical control and SIEMENS servomotors.
Complete safety enclosure.
MAIN FEATURES :
Maximum speed in mm/sec : 250
Passage under gantry in mm : 185
Resolution in mm : 0,005
Repeatability in mm : +/-0,05 to 20° C
DIMENSIONS
| | | |
| --- | --- | --- |
| | MECALASE ML 3015 | MECALASE ML 3020 |
| X stroke in mm | 3050 | 3050 |
| Y stroke in mm | 1510 | 2020 |
| Z stroke in mm | 195 | 195 |